Andrew McKenzie was the best placed of the Kiwis after the first day of racing at the World Cup regatta in Hyeres overnight (NZ time) but many of the New Zealand contingent were looking forward to forecast strong winds to arrive.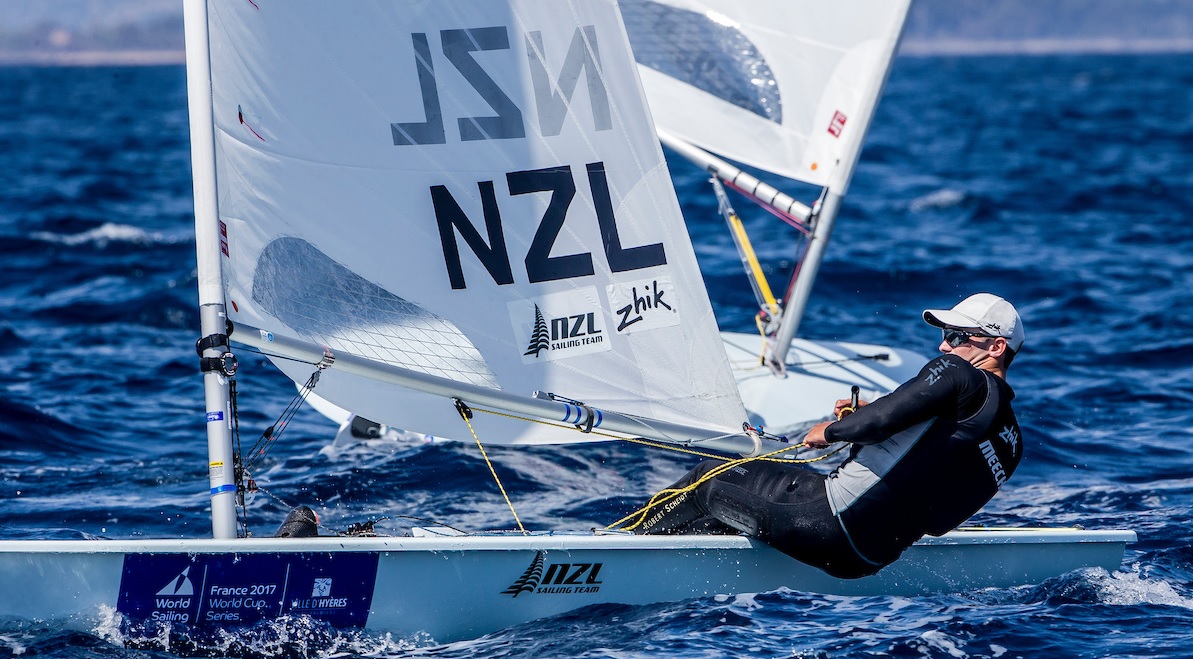 (Sam Meech collected a sixth in the second race. Photo: Sailing Energy / World Sailing)
The 21-year-old, who finished sixth in last year's World Cup final in Melbourne and is a member of the Aon Fast Track squad, was ninth after two races in the Laser class. Rio Olympics bronze medallist Sam Meech was a further two places back in 11th, posting a sixth in the second race of the day.
The Hyeres regatta is the first for Meech back in the Laser since the Rio Games and following knee surgery.
"I sailed alright," Meech said. "I started out well in both races but then didn't really execute the first beats quite how I would have liked which meant I rounded in some pretty average positions at the top mark.
"In the first race I wasn't able to come back but in the second I managed to go the right way and made some big gains, which was nice and saved the day. It was not the ideal way to start the regatta but if I keep knocking out reasonable races from here on in hopefully I can still achieve a reasonable result."
The small New Zealand contingent of sailors is largely made up of promising youngsters gaining valuable experience at top international events.
Liv Mackay and Micah Wilkinson were handily placed in 13th after three races in the Nacra 17 fleet, Josh Porebski and Trent Rippey were 19th and Isaac McHardie and William McKenzie 27th in the 49er and Brendan McCarty was 29th in the heavyweight Finn dinghy.
Last night's racing was sailed in 8-11 knots and light seas but stronger winds are expected throughout the regatta. 
"The forecast for the week looks like it will keep building every day and there's a mistral pattern coming which could mean really strong winds," Meech said. "That's pretty exciting for all of us. Andrew and I tend to go reasonably well in the strong winds so we can't wait for that to hit."
New Zealand results after the first day of the World Cup regatta in Hyeres, France, overnight (NZ time)
Laser
9th - Andrew McKenzie 9, 18 - 27 points
11th - Sam Meech 26, 6 - 32 points
49er
19th - Josh Porebski and Trent Rippey (26), 18, 10 - 28 points
27th - Isaac McHardie and William Mckenzie 22, 22, (25) - 44 points
Nacra 17
13th - Olivia Mackay and Micah Wilkinson 10, 8, (19) - 18 points
Finn
29th - Brendan McCarty 24, 32 - 56 points