Former Olympian Dan Slater (Wakatere Boating club) won the Laser class at the 40th sailing of the RSA Regatta at the Panmure Lagoon Sailing Club last weekend.
Slater, who has sailed at three Olympics, edged Rohan Lord (RSA Winner 1987 and 1989) from Pupuke and Takapuna Boating Clubs and Josh Armit from Murrays Bay Yacht Club after a day of tight racing. Only one point separated the top three after five races at the lagoon sailed in 9-14 knots.
In the Radial fleet Jeff Coffin (RSA winner 2006, 2007 and 2008) from Panmure Lagoon Sailing Club won the day, Helen Spencer from Hamilton and Tauranga Yacht Clubs was second Radial and first woman and Bridget Gordon from Hamilton Yacht Club was third Radial and second Woman.
Thomas Harley (Taipa Sailing Club) won the 4.7 fleet and was first junior.
There were 22 years of past RSA winners present at the regatta, and the day even featured a celebratory RSA birthday cake for Doug Bates (1986 RSA winner) who was to celebrate his 89th birthday a few days later.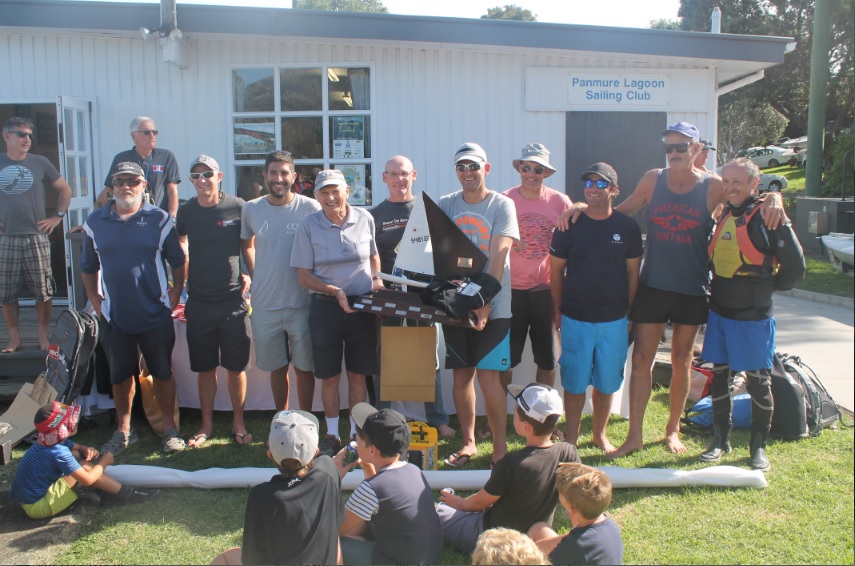 From left to right: John Dowsett (RSA winner 2002), Phil Wild (RSA winner 1996), Dario Motta (RSA winner 2012, 2013, 2014), Doug Bates (RSA winner 1986), Luuk Van Basten Batenburg (RSA winner 2003, 2010 and 2011), Dan Slater (2017 RSA winner), Rohan Lord (RSA winner 1987, 1989), Andrew Child (RSA winner 2016), Paul Page (RSA winner 1980, 1991, 1994, 1999, 2009) and Jeff Coffin (RSA winner 2006, 2007, 2008). Missing Kevin Welsh (RSA winner 2001 and 2004)
A number of sponsors made the event possible, including: Auckland Seaplanes, Boating NZ, Burnsco, CRC, Flyajet, Jackson Electrical, Joy Adams, Maungakiekie-Tamaki Local Board, New Zealand Maritime Museum, NzSailing.net, Predictwind, Red Carpet Tours, RSA, Sugarcraft, Survitec Group, Tenob Marine products, The Water Shed, Waipuna, Wettie and YMCA.
Full results can be seen here