One of Logan Dunning Beck's first 'sailing' experiences was jumping in an Optimist and racing it around the lawn on its trailer. These days, he goes a lot faster and gets a lot wetter.
Dunning Beck will skipper the NZL Sailing Team at June's Red Bull Youth America's Cup. He has fairly big sailing boots to fill, given Peter Burling helmed the NZL Sailing Team to the Youth America's Cup title last time around in 2013.
That's Peter Burling, Olympic 49er champion, four-time world champion and now Emirates Team New Zealand helmsman, but Dunning Beck seems unfazed.
The 23-year-old spent a period of the last Olympic cycle as a training partner for Burling and crewmate Blair Tuke and has shown plenty of potential himself. He also sails a 49er and, together with Jack Simpson, won last year's World Cup regatta in 'Weymouth - although the incomparable Burling and Tuke were absent.
"Everyone thinks they can be the best and, without that, you would lose the drive to do it," Dunning Beck says. "In a lot of ways, it's been really great having someone like [Burling and Tuke] in New Zealand because it sets the benchmark really high. You never have to stop and think, 'is this good enough?' because you know exactly where the benchmark is.
"Also, in a more practical sense, it's someone you can approach and learn from. Having them around has accelerated our learning curve massively."
Dunning Beck's learning has been steep over the last few weeks and will only accelerate over the next fortnight.
The eight-strong NZL Sailing Team journeyed to Bermuda last weekend for a two-week training block on the AC45s they will use in the Red Bull Youth America's Cup. They are the same foiling catamarans used by the six teams during the America's Cup World Series and are capable of reaching speeds of up to 40 knots.
They are only 5 feet shorter than the rockets sailed by the America's Cup teams, although there will be restrictions on when they can sail.
"They have a wind limit," Dunning Beck explains. "Being youth, they don't trust us, so they have a wind limit of 17 knots."
The team will be allowed seven days on-the-water training, when they hope to get to grips with the AC45s and its wing to set themselves up well against the 11 other teams who will race in the June regatta.
"I would like to think we can win it again," Dunning Beck says. "It's the goal of everyone in the team to win it again.
"The racing is going to be very fast in terms of the decisions that get made so I think what we will see is the distances between the teams will grow and evaporate quite quickly around the race course. A lot of it is going to come down to making sure we keep an even keel throughout the races. It's not necessarily doing something fantastic but more about not doing something stupid."
#
Dunning Beck has been exposed to high performance sailing all of his life.
He remembers sessions at his home when his father, former longstanding Olympic boardsailing coach Grant Beck, would mastermind the campaigns of some of New Zealand's most successful sailors including Barbara and Bruce Kendall, Aaron McIntosh and Tom Ashley.
It seemed normal for a young Dunning Beck.
"I never stopped to think about it. It just happened. It's been really beneficial, especially just having that exposure to Olympic campaigns over the years and having everyone around in the lounge when Dad had meetings and was chatting with the guys. Seeing some of the others around me who haven't had that experience is when you realise what a difference it makes.
"From a young age, Dad essentially dragged us into the boats. He had a couple of sailing dinghies and then built an Opti when my brother and I were really young and we started sailing it around the lawn on its trailer. It just progressed from there.
"In the beginning, we really enjoyed it. Those first few years of Optis, Dad was away most of the time so Mum kept us going. There were a lot of times when she had to drag me down to the yacht club. It wasn't until probably about the age of 12 or 13, when the competitive side of it started to really interest me, that it took off."
Dunning Beck won two Optimist national titles and followed it up with another in the Starling, and in 2008 joined a veritable who's who of New Zealand sailing when he won the Tanner Cup for Auckland West – previous winners have included the likes of Russell Coutts, Chris Dickson, Dean Barker and Jo Aleh.
He also dabbled in the 420, Laser Radial and 29er before jumping in a 49er after watching Burling and Tuke win silver at the 2012 London Olympics.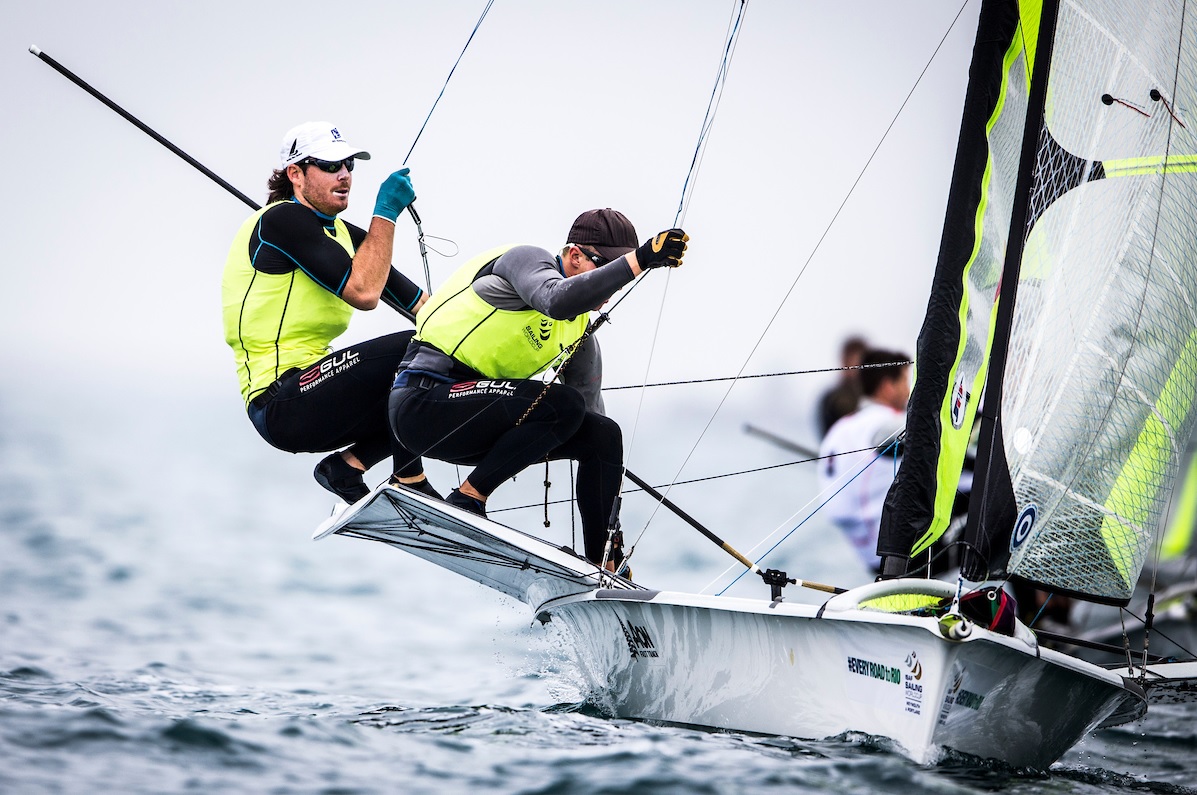 Dunning Beck has hopes of sailing at the 2020 Olympics but knows that might be blocked by Burling and Tuke – the pair will take time after the America's Cup to assess whether another Olympic campaign is realistic. Even if the Olympic champions don't make it to Tokyo, the 49er landscape in this country is become increasingly congested as more youngsters are drawn to the excitement of sailing a skiff.
He also wants to be involved in the America's Cup.
"I think both of them go well together. At certain times, you would have to focus on one or the other but it's all sailing. Both of them are right at the top of the sport, pushing the boundaries. They go hand-in-hand."
Dunning Beck is certainly in the right place to achieve that and knows skippering the NZL Sailing Team at the Red Bull Youth America's Cup is a huge opportunity.
Four of the team who won it for the NZL Sailing Team in 2013 are now with Team New Zealand - Burling and Tuke as well as Andy Maloney and Guy Endean.
And it's doubtful any of them would have had expert tuition on the back lawn.