Francesco Kayrouz is like a lot of young Kiwi sailors - he wants to win an Olympic medal and then move into the America's Cup.
It's a lofty ambition, and he still has a long way to go, but the 14-year-old has already achieved a lot in his short career.
Last month Kayrouz competed in the Aon Youth Sailing World Championships off Torbay, finishing 10th in the 29er class with crew Oscar Gunn.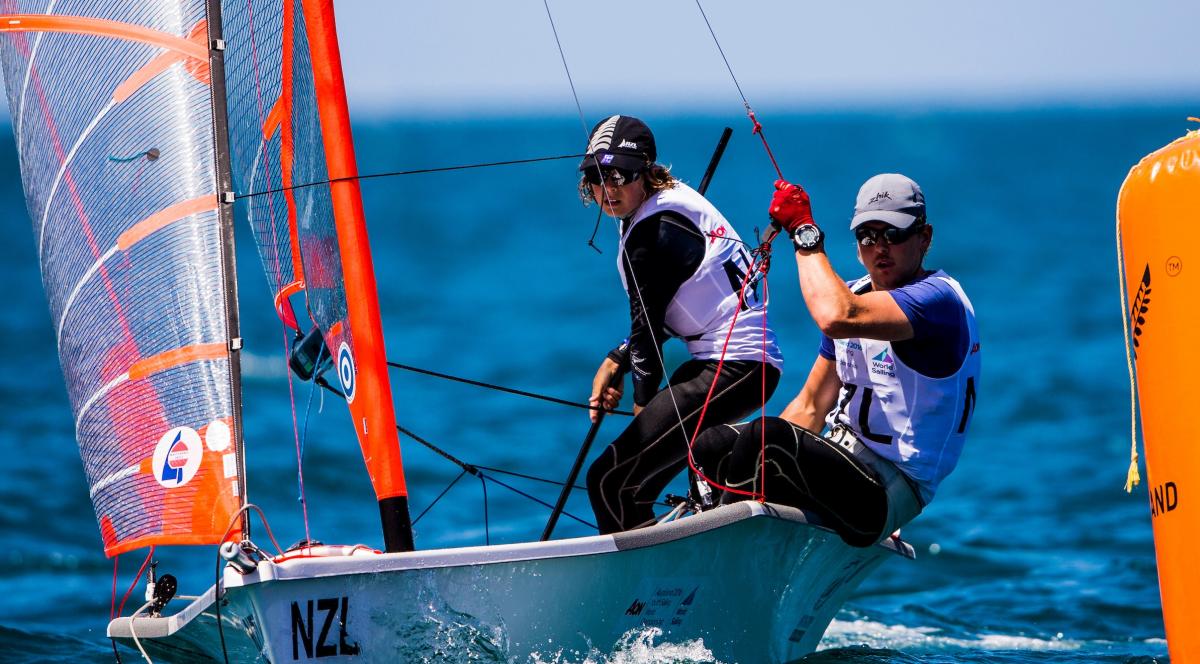 (Francesco Kayrouz, left, and Oscar Gunn finished 10th in the 29er at the Aon Youth Sailing World Championships. Photo: Sailing Energy / World Sailing)
It didn't go as well as the pair had hoped - they had good speed but produced it often in the wrong parts of the course - but it was valuable experience at a big regatta.
Most of Kayrouz's rivals were in their late teens. It's often been the way for the North Shore youngster.
"I'm always up against older competitors," he said. "I'm always looking to push the older guys."
He will get another chance at the Oceanbridge NZL Sailing Regatta at Murrays Bay on Waitangi weekend, which is in its first year and is this country's premier event for Olympic and youth classes. Kayrouz knows how important it is given the 29er representative for the next Youth Sailing World Championships will be chosen from the Oceanbridge NZL Sailing Regatta.
As many as 120 crews will be competing across the three days from February 4-6 and competitors should be mindful of the fact the price of entry increases by $100 after January 24. To enter, go here.
Kayrouz is teaming up with Jackson Keon, who sailed with Tom Fyfe in the Nacra 15 at the youth worlds. The pair recently had a test sail together and, according to Kayrouz, it "went OK".
"The NZL Sailing Regatta is pretty significant because it's a pretty competitive regatta. All the top 29er crews will be there so it will be a good chance to see where we are at with the rest of the fleet."
Kayrouz's background is typical of many. His parents owned a keelboat and he started sailing an opti at 8 at the Wakatere Boating Club before moving into a P-class and 29er.
He need look no further than Peter Burling and Blair Tuke to see what is achievable and has taken the opportunity to talk to the Olympic and 49er world champions.
"Seeing them do well overseas and win a gold medal for New Zealand is pretty cool," Kayrouz said. "They have been down the same road as a lot of people."
Kayrouz is still only a short distance down that road but, given his progress to date, he's most definitely on the right course.