After a close and hard fought series of events in 2015, Auckland's Icebreaker (Aaron Young, Jamie Logan and Steve Mair, RNZYS) has emerged as the winner of the 2015 Elliott 5.9 Association Traveler Series.  
The final event for the 2015 series was sailed over the weekend off Omaha Beach, also the site of the 2015 E5.9 Nationals to be sailed later this year.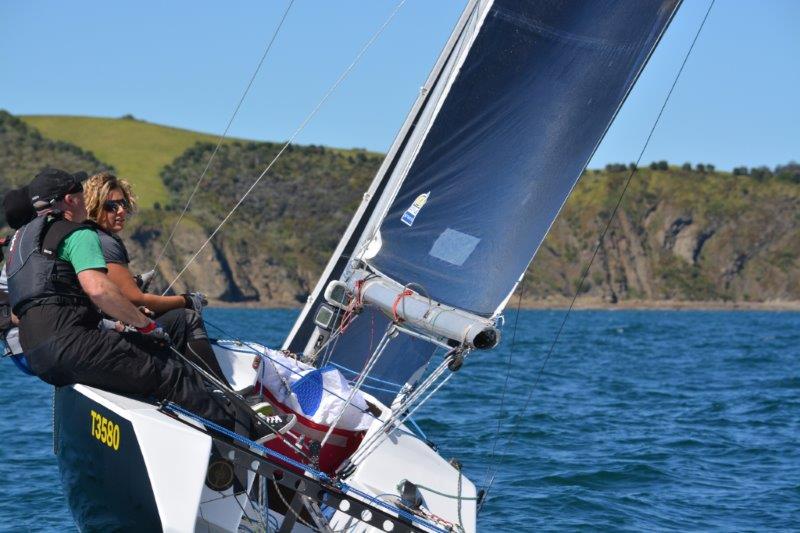 Light conditions prevailed over the weekend, with only races 1 and 2 (of 7) producing moderate conditions.  The remaining five races were sailed in light and variable conditions as the local sea breeze fought the SE gradient breeze.  This meant an extremely tricky racetrack which, combined with the usual close racing, offered a glimpse of what the fleet and spectators can expect at the Nationals.
Voodoo (Simon Manning, Andy Robertson and Sam Cray - RAYC, Auckland) emerged as the winner of the regatta, with 2014 series champions Rough & Reddy (Craig Satterthwaite, Bart Bearda and Alistair Gair - RNZYS, Auckland) snatching second by winning the final heat.  Third was Cheeky Darky (Nathan Williams, Chris Maddock and Andrew Clarke - RNZYS, Auckland) who had been neck and neck with Voodoo going into the final race.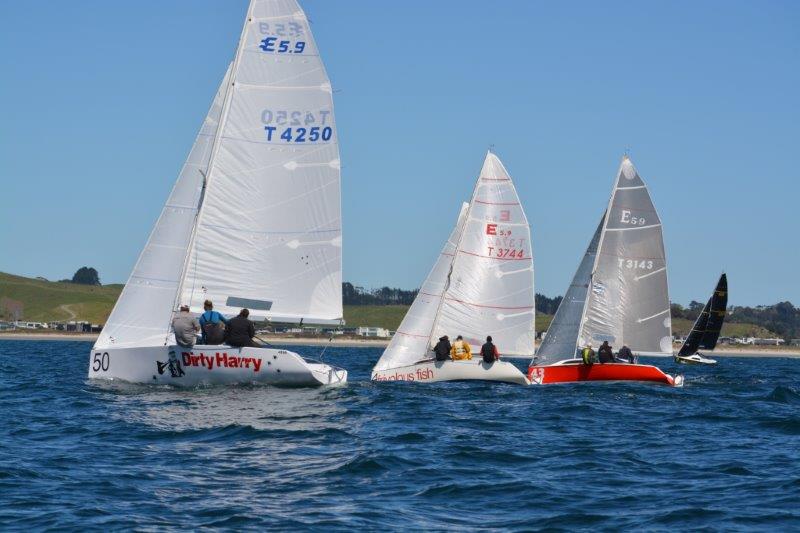 Icebreaker went into the event with a comfortable lead in the overall Traveler Series, which for 2015 comprised four events sailed over the upper North Island.  However the strong showing by Rough & Reddy, combined with a fifth place overall for Icebreaker meant that the final result was not known until the calculators came out after racing had finished.  Eventually Icebreaker was confirmed as winner, Cheeky Darky finished third, followed by Voodoo and Slam Dunk.
The fleet now has a short breather before the Nationals which will be held from November 6th to 8th, 2015.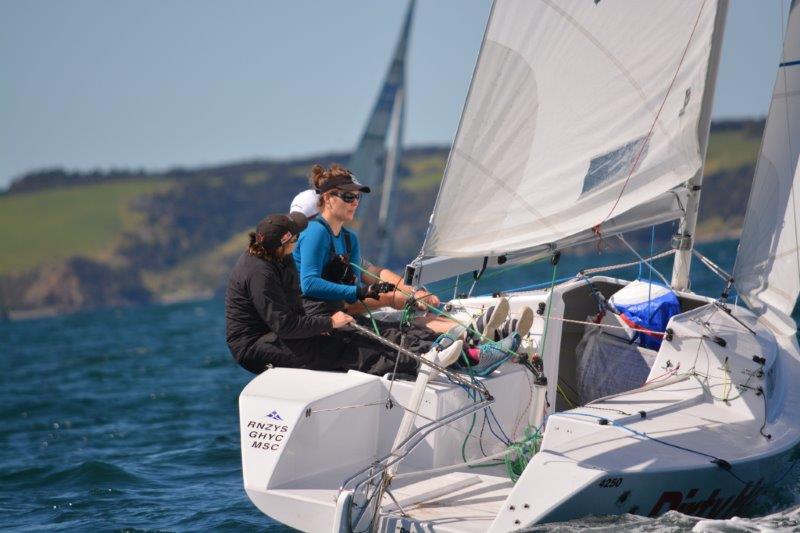 Class structure changes 
After some consideration by the current class officers, owners voted at Omaha to  tighten a couple of key areas of the rules. This is driven by recent rapid growth in the class, and a desire by all to continue to develop both the very successful North Island Traveler Series and also the increasingly one-design nature of the boat.  The Class Association is also focused on preserving the competitiveness of the older boats and is being assisted on the technical aspects by Harold Bennett, who has a long affinity with the Elliott 5.9 class.
More new E5.9 hulls in 2016 
Six new Elliott 5.9's have been launched in the past eighteen months with more hulls planned for 2016. This project was underwritten by the Class Association on a cost recovery basis. All of the new boats are now racing and five competed at Omaha.  
The project is being undertaken in conjunction with, and is supported by, well known Auckland boat builder; Sea Craft/Haines Hunter.
Indicative pricing is approximately $NZD8,750+GST for a bonded hull, deck and hull liner with a faired and finished gunwale. All standard equipment to complete, including trailers, can be obtained through Association-approved suppliers and retail outlets. As an alternative there is a good supply of used equipment such as masts and sails. 
Each hull is built using the class association-owned moulds and construction guidelines. The lay-up is based on that used for earlier boats ensuring they remain competitive. This approach is proving effective with the top places continuing to be shared around the fleet - for example the 2015 Series Champion Icebreaker and Omaha winner Voodoo are both older boats while Rough & Reddy and Cheeky Darky are new boats. 
The Elliott 5.9 and NZ E5.9 Class Association 
Offering close racing and great social events built around a North Island weekend regatta circuit, the Elliott 5.9 class is the perfect three-person syndicate boat. The class is relatively low maintenance and is sailed by a crew of three. No rail meat - everyone has a job! There are active fleets in Opua, Whangarei, Auckland, Plimmerton, and New Plymouth with boats in other venues like Tauranga, Napier, Lyttleton, Nelson and Queenstown. 
The E5.9 Class Association welcomes enquiries and will work with interested sailors and owners to get them into the fleet. Charter boats are occasionally available and there are second-hand boats for sale on Trademe and on the class website. 
Interested sailors can keep up with Association news and our events and projects by 'Liking' the E5.9 Association Facebook Page; www.facebook.com/elliott5.9. 
You can also join our mailing list via the Subscribe to News button on the home page of our website: www.e59.org.nz.