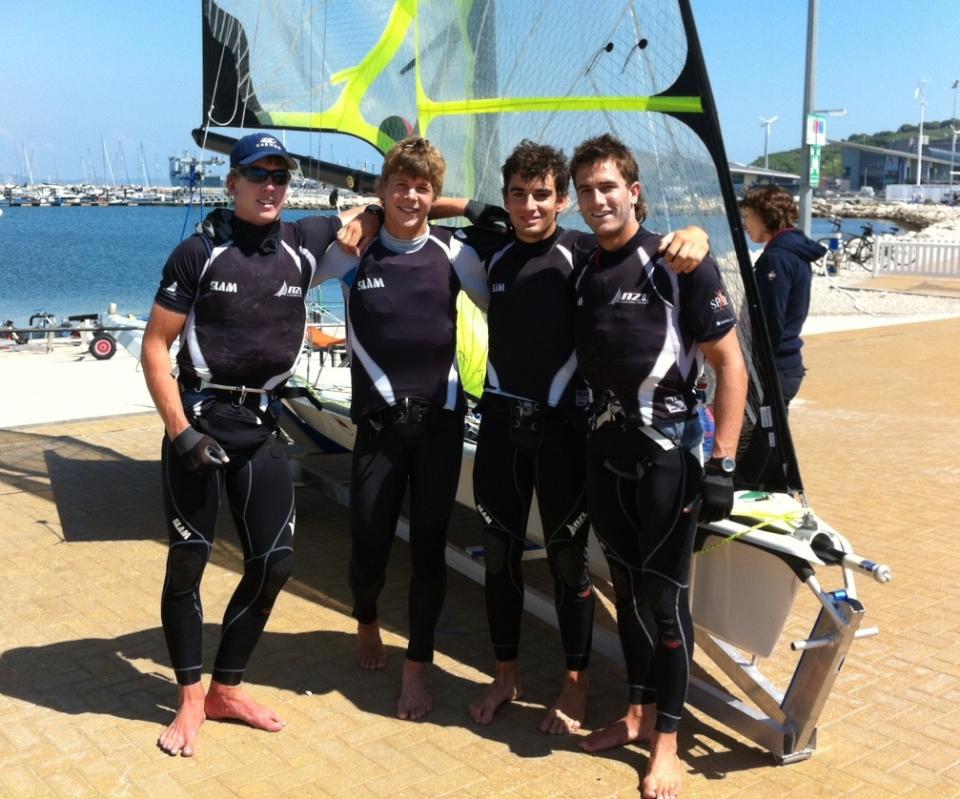 On the backing of their sixth place finish at the 2012 49er World Championships in Croatia earlier this month, Marcus Hansen and Josh Porebski have been inducted to the NZL Sailing Team, as was Jim Turner who on Tuesday was selected for the Olympic Games in the Star class with Hamish Pepper.
Left: Marcus and Josh were presented with their team racing bibs by Peter Burling and Blair Tuke in Weymouth yesterday as they prepare for their first regatta representing the NZL Sailing Team. L to R - Peter Burling, Marcus Hansen, Josh Porebski, Blair Tuke. 
The NZL Sailing Team includes New Zealand's top tier sailors in the Olympic classes, some campaigning towards London 2012 and others aiming for Rio 2016.
Marcus and Josh are training partners for the NZL Sailing Team's other 49er crew: Olympic representatives Peter Burling and Blair Tuke. Both just 19 years old, Marcus and Josh teamed up for their first major 49er regattas together in late 2011, and have since been progressing at a rapid pace. They are at the start of their Olympic campaign and their sights are firmly set on the Rio 2016 Games.
Jim Turner also teamed up with sailing partner Hamish Pepper in late 2011, and together they have been competitive since day one. 36 year old Jim has been sailing since age ten, achieving success in many classes from the one person 4.2m Laser dinghy to the 20+m Maxi Class yachts, and has six world championship titles to his name.
The NZL Sailing Team now includes 21 sailors:
Andrew Murdoch (Laser)
Andy Maloney (Laser)
Dan Slater (Finn)
Hamish Pepper & Jim Turner (Star)
Jo Aleh & Olivia Powrie (470)
JP Tobin (RS:X)
Marcus Hansen & Josh Porebski (49er)
Mike Bullot (Laser)
Paul Snow Hansen & Jason Saunders (470)
Peter Burling & Blair Tuke (49er)
Sam Meech (Laser)
Sara Winther (Laser Radial)
Steph Hazard, Susannah Pyatt & Jenna Hansen (Women's Match Racing)
Tom Ashley (RS:X)
The NZL Sailing Team is on Facebook  and Twitter @NZLSailingTeam - make sure you subscribe to follow both feeds to stay on top the news at it happens.
-ENDS-
Profiles
Marcus Hansen
Yacht Club: Royal Akarana Yacht Club
Career Highlights
2012 49er World Championships – 6th
2011 Sail Melbourne World Cup Event – 6th (49er)
2011 Sail Auckland Regatta– 1st (49er)
2010 Sail Sydney – 5th (49er)
2009 ISAF Youth Worlds – 8th (Hobie 16)
2009 NZ 420 National Championships - 3rd (youth)
2008 Sail Auckland – 1st (420)
2006 NZ Optimist National Champion
Josh Porebski
Yacht Club: Worser Bay Boating Club
Career Highlights
2012 49er World Championships – 6th
2011 Sail Melbourne World Cup Event – 6th (49er)
2011 NZ Youth Match Racing National Champion
2010 ISAF Youth Sailing World Championships- 6th (SL16)
2010 NZ Laser Radial National Championships – 2nd
2009 Laser Radial Youth (men's) World Championships -10th
2009 Sail Auckland - 4th (laser radial)
Jim Turner
Yacht Club: Murrays Bay Sailing Club
Career Highlights:
2012 Star World Championships – 7th
2012 Princess Sofia Regatta – 5th (Star)
2012 Bacardi Cup- 6th (Star)
1996 & 1998 Fireball World Champion
For more information:
Kristine Lederis
Yachting New Zealand
Communications Manager
kristine@yachtingnz.org.nz
021 871 301