Go... Racing! Syllabus launched
The much anticipated and brand new Learn to Race programme from YNZ has arrived and is available for purchase.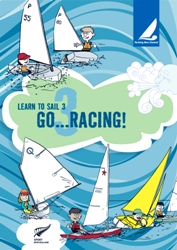 Go... Racing! Level 3 of the Learn to Sail (Dinghy) syllabus follows on from Start... Sailing! and Sailing... Fast! (Levels 1 & 2) where sailors should now be competently sailing around a course and are looking to step up and learn to race.
This is a comprehensive syllabus which starts with a general module on what racing is all about, then goes in to learning about the finer skills of yacht racing from boat setup, sail tuning, start techniques right through to rules and preparing for regattas. More information on the modules can be found here.
 
In over 70 pages of full colour, this book contains notes for coaches, exercises, games for sailors and illustrations and photographs to help learning. 
Yacht Clubs can use this to help build a learn to race programme if they do not yet have one and this is a great resource for coaches to work through with their sailors and also provides guidance for clubs already running race training.
This new book and the others can be purchased by clubs and YNZ members via Yachting New Zealand directly and the online store.
 
Also available is the YNZ Sailing Games book, perfect for adding variety and fun to training programmes and a great resource for sailors learning to race.